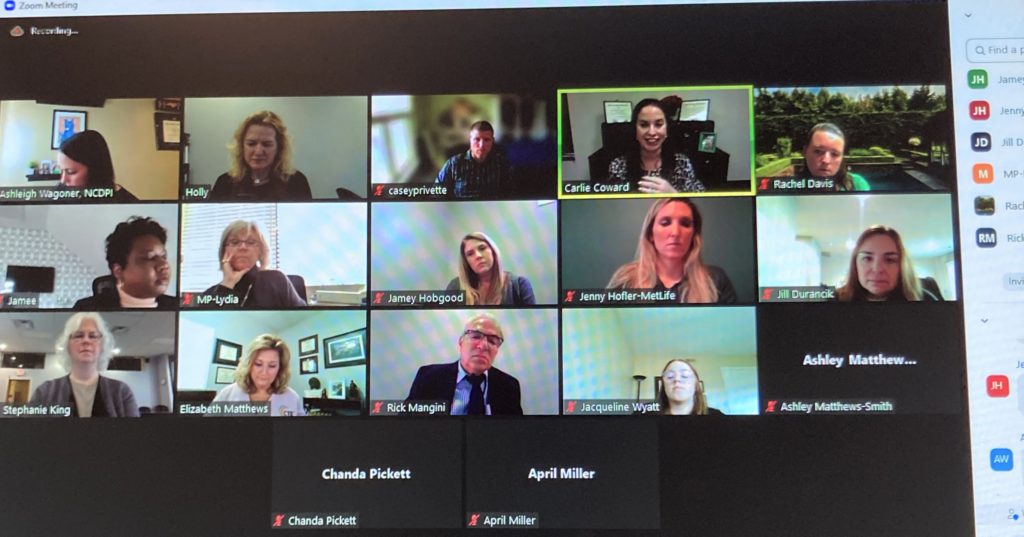 Earlier this month, in partnership with the Career and Technical Education (CTE) division within the NC Department of Public Instruction (NCDPI), we held virtual Futuring Panels with business and finance professionals. In addition to providing feedback on the major trends in these career areas, the business professionals discussed work-based learning opportunities in North Carolina, and weighed in on credentials of value for high school students.
We are always grateful to be hearing directly from business and industry about what's going on in the workplace. Thank you for your time and commitment to #busedu: Carlie Coward, Rachel Riddle Davis, Lydia Morgan, Jamey Hobgood, Jill Durancik, Jamee McGee, Casey Privette, Jenny Hofler, Evelyn Hennessy, Peter Seitz, Vaishali Shah, Stuart Nofsinger, Antonio Bunn, Steve Griffin, Derrick Marconi, Joseph Mirsky, Tracy Harrell, Greg Snipes, and Ron Geary!
A full report will be posted to the Focus Panels page of our website in January. Below are some key takeaways.
Top Trends and Related Skillsets
Data Analytics Continues to Grow in Significance
Storytelling with Data/Data Visualization
Understanding what's relevant in the data; knowing how to use it as a tool
Rise in Self-Service Analytics – Using Actuarial Science and Technology
Giving employees the support tools that they need to make decisions
Tech tools: Excel, PowerBI, Alteryx, Tableau, R, Visier
Data-driven Decision Making
Using the data to shape business goals or to make decisions in relation to goals 
Must be able to use Excel; all analytics software exports to Excel 
Need three levels of Excel (basics, mid-level, and advanced)
Facebook, Netflix, Amazon, Google – all are hiring right out of HS for these skills: "…can get a top of job role, tuition reimbursement, opportunity to be debt-free."
Training Goes Remote
Virtual and web-based training is growing; few understand the online platforms for training. Great opportunity to get into a niche market!
Environmental Sustainability on Everyone's Mind
Net Zero carbon footprint: using data to find ways to get ourselves there
Supply chain issues: forced positive shipping changes – more items in one container, biodegradable materials, less waste
Electric vehicles: will need to be figured into new building infrastructure
Hybrid and Remote Workplace Culture and Flexibility Changes
Flexibility within a framework – finding equitable/consistent solutions for all
Improving connectivity/communication with clients and employees
Finance and Tech – Cloud-based
Ability to manipulate data and pull insights
Skills needed: Coding skills; Excel; Python; R
Accounting and IT degrees are great but learning on the job is also still possible
Navigating Cultural Norms and International Regulations
Having legal knowledge of the business world…on the world stage
Certifications of Value
Microsoft Office Suite and Certifications: Word, PPT, Excel
QuickBooks Certification
Chartered Financial Analyst (CFA)
Certified Financial Planner (CFP)
FINRA Exams
Emerging Occupations
Data Governance: Master Database Managers and Master Data Architects
Organizing the different data sets in a company into a solid database structure
Storing, securing, and protecting data from cyber attacks
Data mining coordination for internal stakeholders (finance/management/operations/marketing/sales)
Cyber Security and Cyber Risk
This career area continues to grow as data becomes more prevalent and hackers become more aggressive
Telehealth will continue to increase
Management of different regions across the country
Logistics and administrative
Paramedics and RNs
Thank you to our NC partners:
Linda Lay, CTE Section Chief for Credentials and Support Services
Elizabeth Matthews, Business, Finance, and Marketing Education Consultant
Ashley Matthews-Smith, Middle Grades Education Consultant
Trey Michael, North Carolina CTE Director
Chanda Pickett, Administrative Specialist
Ashleigh Wagoner, Business, Finance, and Marketing Education Consultant
Jacqueline Wyatt, Career Readiness Specialist
Interested in serving on a business focus panel? Consider joining ExecNet, and you'll be the first to know about upcoming opportunities and be able to give feedback on our National Standards for Business Administration – the foundation for everything that we do. Our mission is to support educators in the preparation of students for careers in business.