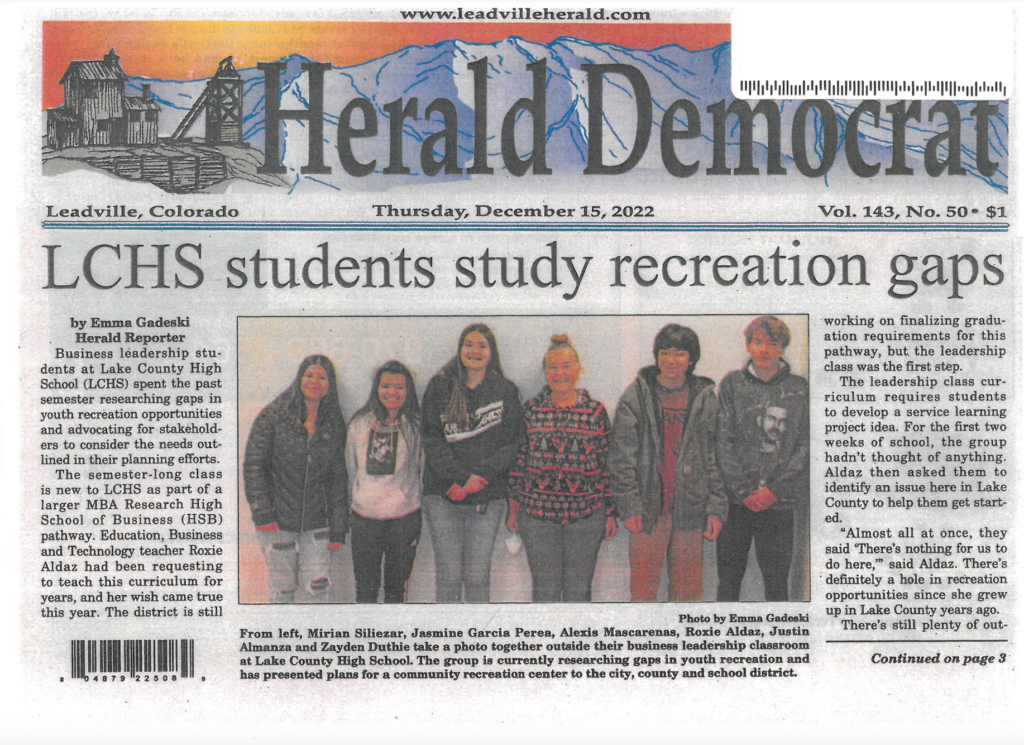 High School of Business™ (HSB) teacher Roxie Aldaz and her students from Lake County High School (LCHS) were recognized by their local newspaper in Leadville, Colorado for their service-learning project in which the students identified a need for their community. The service-learning project is part of the HSB Leadership course.
Working together, Aldaz's students decided to focus on the lack of youth recreation opportunities in their community. They conducted research, invited local government and non-profit leaders to their classroom, and presented their findings and concerns in front of school and city officials.
Acknowledged by LCHS's principal for their hard work and dedication, Aldaz's students plan to continue advocating for their community after the course ends. Read the transcribed article below:
LCHS Students Study Recreation Gaps
Business leadership students at Lake County High School (LCHS) spent the past semester researching gaps in youth recreation opportunities and advocating for stakeholders to consider the needs outlined in their planning efforts.
The semester-long class is new to LCHS as part of a larger MBA Research High School of Business (HSB) pathway. Education, Business and Technology teacher Roxie Aldaz had been requesting to teach this curriculum for years, and her wish came true this year. The district is still working on finalizing graduation requirements for this pathway, but the leadership class was the first step.
The leadership class curriculum requires students to develop a service learning project idea. For the first two weeks of school, the group hadn't thought of anything. Aldaz then asked them to identify an issue here in Lake County to help them get started.
"Almost all at once, they said 'There's nothing for us to do here,'" said Aldaz. There's definitely a hole in recreation opportunities since she grew up in Lake County years ago.
There's still plenty of outdoor opportunities here through fishing, camping, hunting, skiing and skating, but the dynamic is slightly different than before due to the collapse of the bowling alley, closure of the swimming pool and the movie theater burning down, said Aldaz.
The students decided to advocate for some sort of community center or gathering place for youth to hang out since there aren't as many options year-round as in the past.
In winter specifically, the students said it's difficult to drive over mountain passes to visit recreation centers. A lot of teenagers hang out at Ice Palace Park, but that location is less desirable in cold weather.
To see what the community has already worked on to address their concerns, the students began studying city, county and school district master plans and discovered there wasn't much specific to the community's youth.
After conducting research, the group invited local government and nonprofit leaders into their classroom and conducted interviews with them to hear more about their plans for recreation and costs for repairs of facilities around town.
Visitors included County Commissioner Jeff Fiedler, Leadville Mayor Greg Labbe, Lake County School District Chief Financial Officer Paul Anderson, Jane Harrelson of Pb Swims, and Margarita Perea, Full Circle of Lake County's high school programs coordinator.
Some highlights were finding out how much it would cost to either repair or replace the Lake County Intermediate School pool and visiting potential buildings that could function as a recreation center such as the Sixth Street Gym.
To share what they learned and ask for further consideration, the students then presented during public comment periods at Board of County Commissioners, City Council and school board meetings over the past week.
"At first we were nervous and we didn't talk a lot while we were learning how to ask questions," said freshman Alexis Mascarenas of the experience. "But it was pretty interesting to learn more about our community an what they have planned for the next couple of years."
Aldaz had the class practice speaking in front of each other before heading out to the big leagues. One of the students, Mirian Siliezar, shared her presentation in Spanish during the school board meeting since there are members who are fluent in Spanish.
This process was a bit nerve-wracking, but the students said it got easier each time around.
School Board President Eudelia Contreras acknowledged that engaging in advocacy work can be difficult and scary, so she applauds all the research and effort the students put in for the cause.
Now that the semester is wrapping up, the students plan on further connecting with community organizations including Lake County Build a Generation, Full Circle of Lake County and Get Outdoors Leadville!
The goal is to continue meeting as youth leaders and continue advocating for the community to keep recreation opportunities for their age group in mind going forward.
"When I was a teen, it was common to have a safe place to go hang out and be with friends," said Labbe. "These kids don't have that and I believe we need to help find, and fund, such a place."