You're invited! Our Iowa partners have graciously allowed us to share their upcoming Work-Based Learning Webinars with our larger community. Four new webinars will begin this month, focusing on key work-based learning (WBL) support strategies. 
Designed for work-based learning coordinators, content-area teachers, and others interested in embedding WBL into courses and experiences, the webinars will be led by Kristy Volesky, Work-Based Learning Consultant, Bureau of Career and Technical Education, Division of Community Colleges and Workforce Preparation, Iowa Department of Education.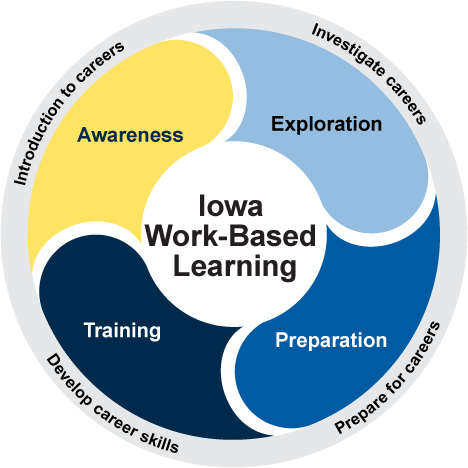 Register for these FREE webinars: We hope to see you there!
Implementing Work-Based Learning in the Individualized Career and Academic Plan (ICAP)

Embed work-based learning to prepare students for their future and meet ICAP requirements.
Wednesday, December 21, 2022, 1–1:30 p.m.

Transforming CTSO Activities Into Work-Based Learning Experiences

Learn about this innovative approach in partnering CTSO activities with opportunities for work-based learning.
Wednesday, January 18, 2023, 3:30–4 p.m.

Incorporating Best Practices for Work-Based Learning in CTE and Career Academies

Discover best practices for work-based learning focused on career and technical education and career academies.
Tuesday, February 7, 2023, 10–10:30 a.m.

Supporting Historically Underserved Students in Work-Based Learning

Find new ways to support all students in their career exploration and work-based learning experiences.
Wednesday, February 15, 2023, 2–2:30 p.m.