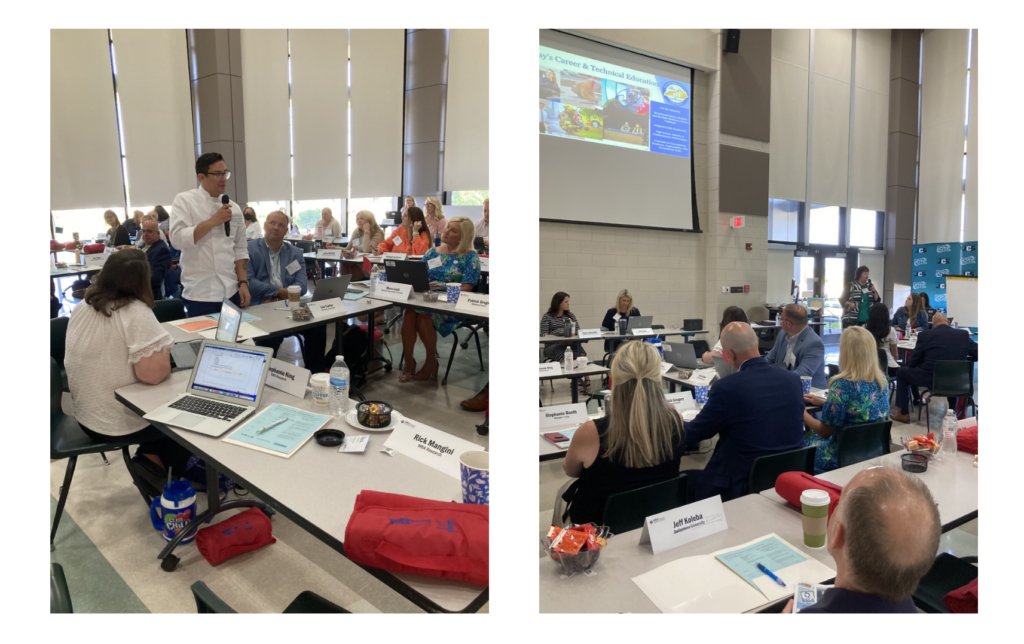 In partnership with the Business & Marketing and Family & Consumer Sciences program areas in the Office of Career and Technical Education (CTE) within the Kentucky Department of Education (KDE), we facilitated a Futuring Panel with Hospitality and Tourism Management professionals in the Lexington/Louisville areas in May.
In addition to providing feedback on the major trends in the hospitality industry, the business professionals shared their expertise on ethical leadership traits, and their perspectives on certifications of value in Kentucky for hospitality and tourism.
A full report will be posted to the Focus Panels page of our website in late June. Below are some key takeaways from the trends portion of the discussion.
Top Trends and Related Skillsets
| | |
| --- | --- |
| Trends | Related Skill Sets |
| Rising Costs and Supply Chain Shortages Go Hand-in-Hand | Need: inventory management, budgeting, negotiating skills, decision-making skills |
| Worker Shortage Causing Worker Fatigue and Recruiting/Retention Challenges | Need: time management, conflict management, multi-tasking skills; marketing, communications and creative skills |
| Technology Impacting Communication in the Workplace | Need: adaptable, quick learners (of tech); customer service skills; basic professional skills: dressing for job interview, communication skills, letter writing, basic computer skills: MS Word, Excel |
| Demand for Diversity, Equity, and Inclusion (DEI) – For Employees and Customers | Need: empathy, cultural awareness/literacy, multilingual, relationship skills |
We are always grateful to meet with and to hear directly from business and industry about what's going on in the workplace. Thank you for your time and commitment to KY workforce development and business administration education.
Stephanie Booth | Director, Ticketing and Customer Service, Breeder's Cup
Lee Carter | Executive Director, Kentucky Horse Park
Trevor Chesler | Director of Booking, Rupp Arena
Michael Filiberto | Executive Chef, Hyatt Regency Louisville
Bob Gigliotti | Chief Operating Officer, Shaker Village of Pleasant Hill
Patrick Gregory | Partner, Mellwood Tavern
Steve Hoffman | Executive Director, Norton Center for the Arts at Centre College
Patrick Huston | Assistant General Manager, Historic Boone Tavern Hotel & Restaurant
Barbara Jean Josey | Director of Business Development and Hospitality Services, The Elwood Hotel, Fiddletree Kitchen & Bar
Mona Juett | Deputy Commissioner, Kentucky Department of Tourism
Barry Kuhnke | Dual General Manager, Lexington Marriott City Center/Residence Inn
Celeste Lewis | Center Director, Pam Miller Downtown Arts Center
Cynthia Molinari | Food and Beverage Manager, Hyatt Regency Louisville
Nathan Monfett | General Manager, Superhost Hospitality (Home2Suites by Hilton)
Abe Owen | Founder, President and Guide, Horse and Barrel Tours, Inc.
Kaelyn Query | Founder, President, Lexington Event Company
Stacy Roof | President/CEO, Kentucky Restaurant Association